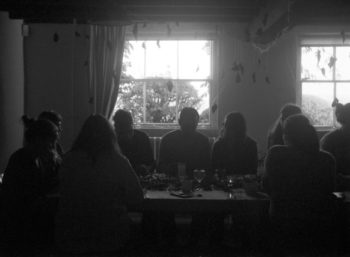 Info updated August 27th, 2020
Why me? Why now?
In these uncertain times, many of us are wondering how to connect and serve more deeply. During this unprecedented period, we welcome you to take a moment to learn about an exciting and meaningful team-based mentoring model that we have recently launched at Mountain Home, called Open Table.
Mountain Home is committed to using the social distancing period to set up one-on-one phone conversations with community members interested in this opportunity, and doing the Open Table volunteer training and group meetings online as needed and outside using social distancing to ensure everyone's health and safety. Although the current situation presents new challenges, we see these community-building efforts as more important than ever, as the young families we serve are particularly isolated and vulnerable to the fallout of this crisis and have an even greater need now for a team of practical and relational support.
What is Open Table?
The national Open Table model helps individuals experiencing poverty and social isolation connect with community resources and develop a network of social support. Each young mom served has a "table" of 6-8 volunteers who meet with them weekly as a group over the course of one year. They are also encouraged to socialize outside of meetings – having dinner together, babysitting kids, etc. This year of service helps young moms advance their life goals and creates the ideal conditions for forming natural, lasting relationships.
Over the last 18 years, the proven Open Table model has been implemented by churches, non-profits, government agencies, and businesses in 29 states. Based on our clients' need for more organic social support, as well as community members' interest in more personal ways to serve, Mountain Home is excited to be the first Open Table site in Montana. We are pleased to share that our first three tables of volunteers completed the extensive Open Table training and began connecting with their families. We are currently doing one on one informational meetings to recruit for another table of volunteers which will begin training this October.
Who can help?
We currently have several Open Table volunteer positions open for another round of training starting this October. We would also love to connect with individuals interested in perhaps being part of future rounds of training in the year ahead.
Volunteers do not have to be experts but do need to be able to make the significant time commitment, be interested in building relationships, be willing to follow the mom's lead, and take part in extensive 7-week training around offering trauma-informed support.
If you personally are interested in learning more about this powerful model, the first step is to contact Erin Scoles, at erin@mountainhomemt.org or 406-546-7358 to set up a one-on-one conversation.
Help us spread the word!
Know someone with the time and passion to make this kind of difference in the life of a young mom in our community? Please forward this post! Also, please share this information with community organizations you participate in (book club, business, church, etc.). And as soon as it is prudent, we are happy to do in-person presentations about Mountain Home (or online presentations as needed) on how to get involved in this impactful Open Table project. Please contact Alysha at alysha@mountainhomemt.org or 406-360-4317 with any outreach questions or ideas.
Real human impact
To see an example of what Open Table support can mean to a young person, watch this short video about one Texas mom's Open Table experience and the difference it made in her life. Stay safe and healthy out there Missoula, and remember we are in this together!
P.S. If you would like to make a donation towards Mountain Home's ongoing wraparound care for local young families in need, we would very much welcome your support at this time. Thank you for all the good you make possible Missoula!