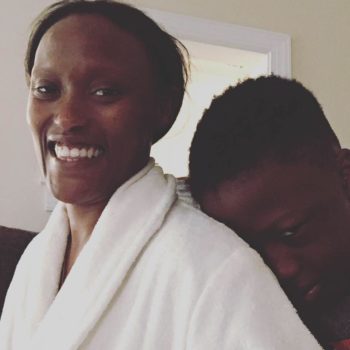 Essay by Jacalyn Wetzel, creator of "Stop Yelling, Please!"
Hey friend,
Do you remember me? It's been a while, I know. I sat behind you in civics in junior high.
Do you remember me? You were my base on the cheer squad, and once you caught my head just before it hit the ground after a long day of stunting.
You don't remember? Our boys played together on the soccer team in 4th grade.
We drank wine out of solo cups in college together.
You totally remember. My vernacular is so similar to your own that it's a running joke that I'm not actually Black, but I am.
And so are my boys.
Friend, I don't get deep enough with you and it's not your fault. I just see the quick twist in your face that quickly screams "I'm uncomfortable" when I broach the subject of race.
Discomfort I can deal with most days, but some days it's more than discomfort. Some days it's disbelief, and that hurts more, so I don't tell you.
I don't tell you the fear I feel on a daily basis as my boys continue to grow. I don't tell you that all on their own they've developed a healthy fear of the police, and even the school resource officer.
I don't tell you that my oldest son has said "the SRO treats the Black kids meaner. It gives me anxiety."
I don't tell you that even though we are careful not to watch these awful videos of unarmed people getting shot, your children are showing them at school, and my children have noticed the theme.
I would never tell you that as they shoot up to be as tall as I am, soon to tower over me, that my mama heart breaks for reasons you'll never fully grasp.
I'd never tell you that at the ripe age of 14, my son "fits the description," and his brother is not far behind.
I would never tell you that, because you can't imagine that being truth. You know my boys. You know their hearts. You know they're the sweetest, most respectful and helpful children you've met. The thought of anyone seeing them as a threat just does not cross your mind.
I love you for loving my boys, I do. But I need you to love them enough to demand change so parents that look like me aren't afraid our children aren't going to make it home.
I need you to love them enough to not just see them as your sons, but to see all boys that look like them as your potential sons.
I need you to love them like you love your own sons, because this world doesn't. Love them because my mama heart cannot handle another man being shot that looks like my brothers, cousins, uncles, and sons.
Love them because my son has said the words "I can't breathe" when talking about how seeing a police car makes him feel.
Love them because my big brother likes to jog.
Love them because my younger brother has the best contagious laugh you've ever heard.
Love them because my baby brother has the sweetest soul, but it takes him a while to say things. He gets excited and his stutter gets in the way.
Love them because the movie American Son is so many Black mothers' realities.
Love them so it does not become my reality.
Love them and demand America do the same.
You know me. I'm your friend.
Jacalyn Wetzel is a mother of four, and the creator of the blog "Stop Yelling, Please!" Jacalyn's passion is parenting and relating to parents who may be struggling with the day to day. She's a speaker, author, and Licensed Clinical Social Worker. Subscribe to her blog here, find her on Facebook here, and on Twitter @Stopyellingmep2.
Mountain Home is incredibly grateful to Jacalyn for letting us republish her essay. Mountain Home is committed to listening, learning, and doing more to dismantle racism. Black lives matter.