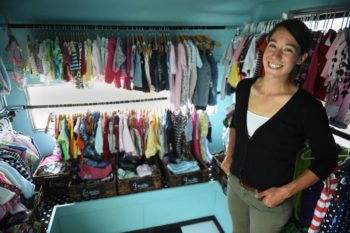 A new mobile baby clothing and accessory thrift store with affordable or free stuff for low-income families is now rolling around the Missoula community.
Mountain Home Montana, a local nonprofit that's been serving young mothers and children for 18 years, has launched the innovative new service in an effort to create more access to affordable, high-quality baby items. It's called the Rattle & Roll Teeny Tot Shop; it's housed in a remodeled vintage trailer, and it will pop up near the Saturday farmers markets and local parks this month.
"Every month we get hundreds of baby items donated to us from our generous community," said Crissie McMullan, Mountain Home's executive director. "Even after the 60 young families served by Mountain Home's residential and outpatient programs have chosen what they need, we still have a ton left over. Rattle and Roll gets these items back out to families who could use them, at the same time giving Mountain Home the opportunity to spread the word about our services and other resources available in our community."
Any family receiving government assistance is welcome to take seven items for free, and the shop will provide families information about resources and support services in the community.
Most items range from $1 to $4, and if you have an electronic benefit transfer card for government assistance, your first $10 is free. The shop accepts cash and credit cards with no minimum purchase amount.
Mountain Home provides shelter for young mothers who need a place to live and a network of support as they create safe, stable and nurturing homes of their own. McMullan said they got the idea for the shop because everyone realizes that having babies can be a joy, but can also be expensive and overwhelming.
On Thursday, the shop made a stop at the Missoula Food Bank during its new Women, Infants and Children drop-in hours, and it'll be at the parking lot south of the Five on Black restaurant on North Higgins on Saturday, June 30, from 9 a.m. until 1 p.m. to connect with community members perusing the farmers markets.
Olivia Riutta, a Missoula mom, said she loves the idea.
"It is awesome to be able to get my son some adorable new outfits and books while we are out and about," she said. "And I also love that when he grows out of his highchair or baby carrier, that I could donate them to Mountain Home and know they will go to a family who needs them and help fund Mountain Home's critical work with young moms and children."
Rachel Ariaz, who manages the shop, said she's gotten good feedback on the concept so far. The shop has made four appearances, including its first time ever at the food bank on Thursday. She said there's been a little bit of trial and error getting going, but June is a good time to hit the ground running.
"The positive response has been so fun to see," she said. "People are excited to see all the cute things we have for sale, and it has been so rewarding to be out on the street talking to people about Mountain Home and all our amazing community has to support families with young children."
Although the nonprofit is focused on helping mothers and children, Ariaz said they encourage fathers, grandmothers and grandfathers to shop there as well. Mountain Home also accepts donations of lightly used, high-quality baby items for kids ages 0-5.
The generosity of Missoulians was on display on Thursday, as one anonymous donor without children gave the shop $5 to "pay it forward" so someone else could get some clothing.
For more information, contact Mountain Home Montana program manager Shelly Scotti at 406-210-3243.
Article by David Erickson, Published in Missoulian June 23rd, 2018