We are excited to announce Stephanie (Steph) Goble as Mountain Home's new Executive Director!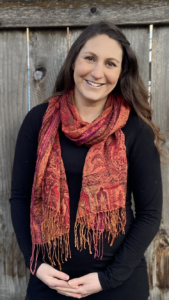 Steph comes to Mountain Home with a background in nursing leadership, nonprofit management, communications, and public health. Over the last seven years, Steph has built a career in nursing, most recently serving as the Clinical Nurse Manager at St. Patrick Hospital, where she oversaw a busy unit with a staff of 51 employees. Prior to her clinical management experience, she worked for several years in Labor & Delivery as well as the Neonatal Intensive Care Units.
Steph also brings several years of communications an  d non-profit to Mountain Home – she has served as a Public Affairs Specialist for the Environmental Protection Agency and in Development Services for the Whitman-Walker Clinic in Washington DC. Steph is a passionate advocate for women and children's mental and physical health and will work tirelessly to build upon the successes of Mountain Home to shape our future.
Steph's investment in our mission of supporting families with young children has recently become even more personal – just last week she welcomed a new baby girl into her family! Steph's transition into Mountain Home will be phased in over the next 3 months while she bonds with her infant, with a plan for full-time leadership by May 1st. Mountain Home's strong and capable Leadership Team will be filling any needs in the interim.
Happily, Mountain Home has twenty years of experience adapting to meet the needs of moms who work here, as well as the moms we serve. In fact, it is serendipitous that this transition coincides with our 20-year anniversary. Mountain Home's new executive director will help guide the organization into its next 20 years with a strong network of supporters like you!
Please join us in welcoming Steph to Mountain Home! If you'd like to connect directly with Steph, you can reach her by email at stephgoble@mountainhomemt.org or by phone at 406.541.0448.