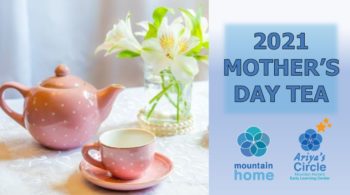 This year's Mother's Day Tea was a great success!
We are so grateful to everyone who gave this year in recognition of the joys and challenges of motherhood. We'd also like to extend a special thanks to Skander Spies, Melissa Bangs, Ana Beard, Laura Snyder, and Steph Goble for lending their time to make this event so impactful.
Watch the full recording of the event below:
Find the other video highlights on our YouTube channel
Learn about Open Table, Mountain Home's team-based mentorship program. 
New to Mountain Home? Discover more about our comprehensive wrap-around services in this animated video. 
The renovation of Ariya's Circle, our expanded onsite trauma-informed childcare program is almost complete! Find out what makes this program so special here.